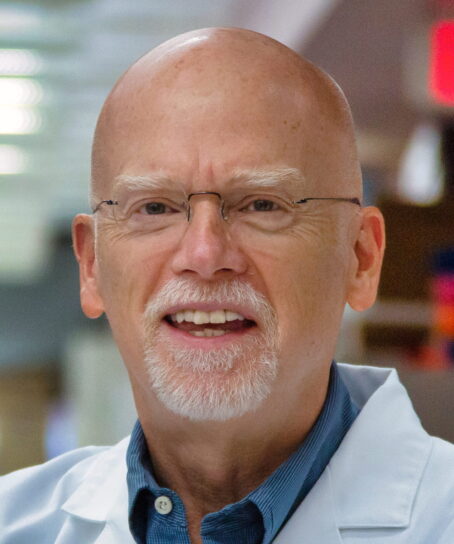 J. Timothy Greenamyre, MD, PhD
Senior Advisor
Dr. Tim Greenamyre is the Love Family Professor and Vice-Chair of Neurology, Director of the Pittsburgh Institute for Neurodegenerative Diseases (PIND) and Director of the American Parkinson Disease Association (APDA) Advanced Center for Parkinson's Disease Research at the University of Pittsburgh. He is also professor of Clinical and Translational Science and a member of the Graduate Training Faculty of the Molecular Pharmacology Program of the University of Pittsburgh.
Dr. Greenamyre received his BS from Michigan State University and his MD and PhD from the University of Michigan. After his clinical neurology residency at the University of Michigan, he joined the faculty of the University of Rochester in 1990 and moved to Emory University in 1995.
He was recruited to the University of Pittsburgh in 2005 to become the inaugural director of the PIND and to establish the clinical Movement Disorders Division in the department of Neurology. The PIND is an interdepartmental, interdisciplinary and highly collaborative, wet lab-based institute that conducts both basic and translational research on neurodegenerative diseases. Complementing the bench research of the PIND, the Movement Disorders Division provides clinical care and research opportunities for people with Parkinson's disease and other synucleinopathies, tauopathies such as progressive supranuclear palsy (PSP), Huntington's disease, tremor, dystonia and related disorders.
Both the PIND and the Movement Disorders Division have grown in size and stature under Dr. Greenamyre's leadership. Dr.Greenamyre's own research focuses on the pathogenesis of Parkinson's disease with a particular emphasis on gene x environment interactions as they relate to mitochondria, oxidative stress, alpha-synuclein and leucine-rich repeat kinase 2 (LRRK2). Model systems include gene edited cells, primary neurons and mice and rats. Experimental therapeutic approaches include small molecules, ASOs and AAV viral vectors.
Dr. Greenamyre's research has been published in more than 200 articles that have been widely-cited (h-index 95). He has served as a consultant for pharma and biotech companies, including Merck, Pfizer, Biogen and others. Dr. Greenamyre has received numerous honors, including the 2007 Langston Award from the Michael J. Fox Foundation. He delivered a 'Decade of the Brain Lecture' at the annual meeting of the American Academy of Neurology and a Presidential Lecture at the annual meeting of the Society for Neuroscience. He has been listed as one of the 'Best Doctors in America' since the mid-1990s and was elected to the Association of American Physicians in 2015. He was editor-in-chief of the scientific journal, Neurobiology of Disease, for 17 years and is currently a Reviewing Editor for Science Translational Medicine. He was elected by his international peers to serve as Chair of the 2019 Gordon Research Conference on Parkinson's disease.
He was the 2022 recipient of the Robert A. Pritzker Award for Leadership in Parkinson's Research from the Michael J Fox Foundation, and he is a member of the National Institute of Environmental Health Sciences (NIEHS) National Advisory Environmental Health Sciences Council (NAEHSC).