Careers
We are the
innovators

who are helping to find

solutions

to the complicated problems facing health care. United by our

diverse

backgrounds, we

collaborate

to draw upon each other's unique skills and

expertise

.
Software Engineering & Architecture
Test Engineering
Technical Analysis
Scrum
Solutions Architecture
Technology Services Development & Delivery Management
Cybersecurity & Cloud Infrastructure
Machine Learning & Data Analytics
Data Engineering & Architecture
Our engineering team thrives on collaboration and curiosity to shift the paradigm and make an impact in the health care industry. Leveraging Agile methodology and the latest software platforms, you'll work with product teams, clinicians, and data analysts to develop innovative health care technology. Plus, with access to leading clinical experts, you'll gain real-world insights and feedback that enable you to iterate products to meet the needs of the end-user.
Strategic & Technical Product Management
Strategic & Product Design
Business Analytics
Portfolio Management & Development
Investment & Transaction Management
Program Management
Executives in Residence
Our product team has deep knowledge of health care IT and works to create and support innovations that will impact the lives of patients in meaningful, lasting ways. You'll work alongside clinicians, researchers, and a collaborative team of expert engineers to transform ideas into thriving business and life changing medicine.
Investment & Transaction Management
Business Analytics
Portfolio Management
Clinical & Scientific Research
Executives in Residence
UPMC Enterprises has a robust and rapidly growing Translational Sciences focus area dedicated to investing $1 billion in life sciences startups by 2024. The team collaborates with clinicians and industry experts to rapidly bring to market new drugs, diagnostics, and devices.
Operations
Human Resources
Finance & Transaction Services
Legal
Marketing
Business Development
A wide range of specialties and skillsets are encompassed within the teams that make up the Business and Operations category. These experts provide critical vision and support to enhance the culture of Enterprises and boost the success of our portfolio. Whether leveraging systems and processes to help businesses run more efficiently, developing go-to-market strategies and tactics, or fostering industry relationships, you'll be a key part of a collaborative team that is shaping the future of health care.
Product
Engineering & Technology Services
Life Sciences
Business & Operations
UPMC Enterprises Summer Associates work with mentors and gain valuable insight into all areas of our business. If you are interested in developing lasting relationships and gaining real-world exposure to the latest innovations in health care and technology, we encourage you to explore an opportunity with us.
Product
Engineering & Technology Services
Life Sciences
Business & Operations
At UPMC Enterprises, we partner with select portfolio companies to grow their teams through our robust talent acquisition system. These startups are on the cutting-edge of science and technology and are looking for a variety of expertise to take their companies to the next level.
"The ability to quickly adjust to new conditions in and around Enterprises is, without question, one of our greatest strengths and it delivers results."
Jeff Jones
Senior Vice President, Product Development
Technology Services
"Our work impacts everyone regardless of age, sex or other distinctions & is hard to navigate through as a user or as a provider. The challenge is what keeps our team going."
Ash Shivkumar
Product Manager
Digital Solutions
"UPMC Enterprises pushes the boundaries of health care through providing the platform necessary to pursue advances in health care technology. Whether it is providing funding or developing technology, UPMC Enterprises turns ideas into businesses that address health care needs."
Gary Boyko
Senior Business Analyst
Business Services
Guiding Principles
Our work is shaped by specific guiding principles designed to reflect our culture and our team.
Click on each principle to learn more.
Disruptive
Change makers. We drive the required changes in the future of health care across UPMC every day.
Intense
Relentless focus. We aggressively tackle problems as a team to create life-changing products.
Collaborative
Share, build, and achieve together. We achieve our mission as one, leveraging UPMC's collective genius and holding one another accountable.
Curious
Relentless pursuit of knowledge. We seek knowledge and perspectives through persistent exploration, questioning, and learning, in order to deploy better solutions to health care problems.
Customer-Centered
Externally focused. We strive to positively impact the necessary cultural change in health care.
Accountable
Own it and get it done. We commit to results and drive to success for ourselves, our team, our partners across UPMC, and our customers.
Join Us
---
Life at UPMC Enterprises
At UPMC Enterprises, we aim to break down the walls of the traditional workplace. Located in Pittsburgh's thriving technology and life sciences scene, we embrace a casual dress code and enjoy a modern, open floor plan where our team can work both independently and collaboratively with developers, designers, and clinicians. From "Bring Your Dog to Work" days to virtual team-wide coffee chats, we pride ourselves on offering an agile atmosphere with the stability and backing of one of the nation's largest integrated health systems.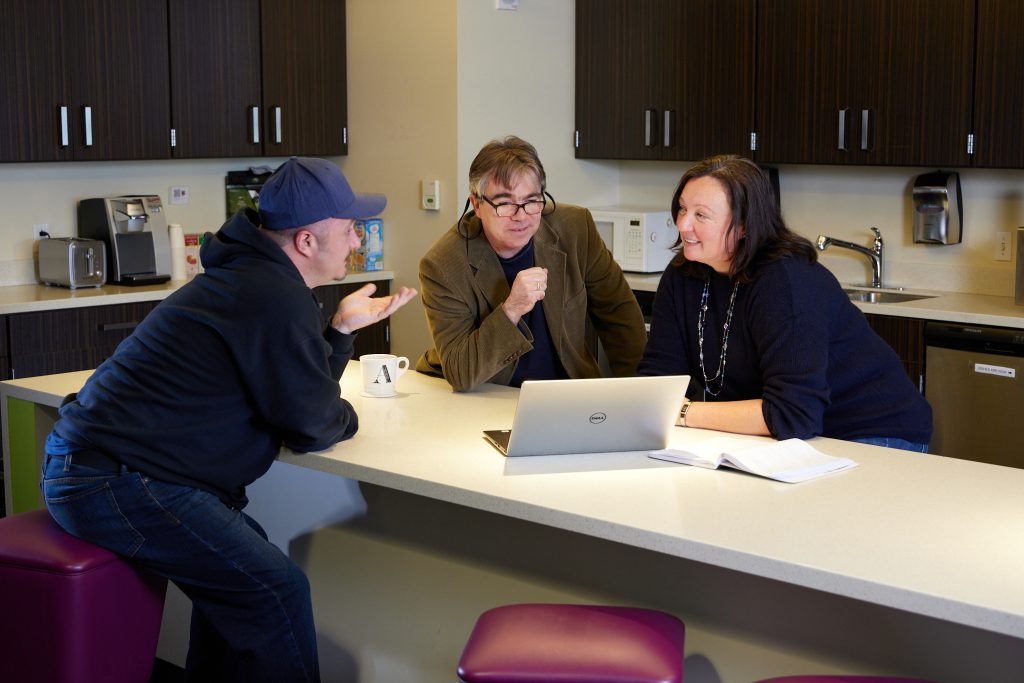 Pittsburgh is a huge part of our culture at Enterprises. That is why we decided to get inspiration from Pittsburghese for "Shout-Ahts," our peer-to-peer acknowledgement system for recognizing our colleagues who go above and beyond. Every month, we randomly select a Shout-Aht winner to win a cool prize as a thank you for all their hard work.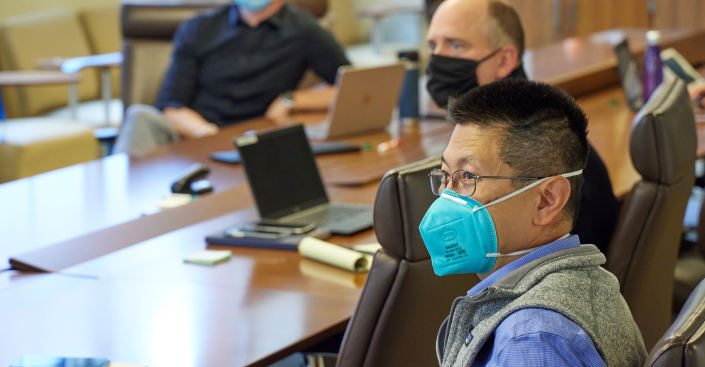 Once a month, UPMC Enterprises hosts an all staff presentation featuring updates from the president, project spotlights, HR updates, birthdays, anniversaries, and more. It's a way for us to stay connected and to foster a sense of community. Oh, and sometimes, there's cake.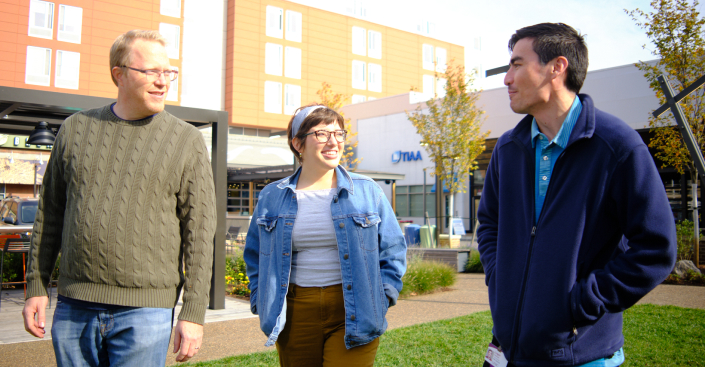 Location, location, location! Our office is located in Bakery Square, the hub of innovation in Pittsburgh. In addition to having some very tech-savvy neighbors, we also get to take advantage of the hottest new restaurants, shops, and can't-miss events in the city.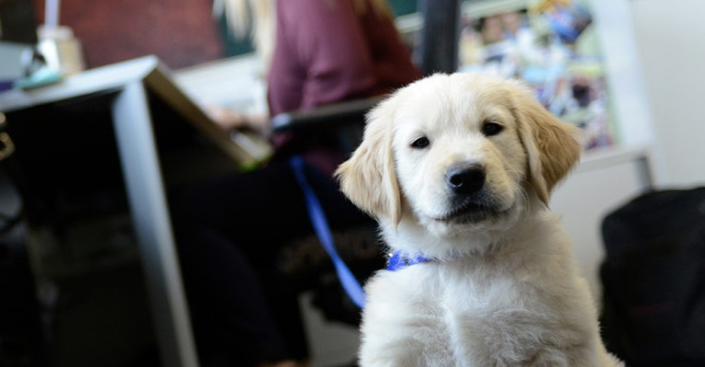 At Enterprises, we welcome our furry friends to the office twice a month. We sometimes even invite them to write guest blogs in our "A Dog's Day in the Life" series.
---