Oftentimes, minutes can be what separates a positive patient outcome from a negative one. New technologies have made it easier than ever for providers to communicate with each other. However, with so many different technologies, phone trees, and other ways to communicate, precious time can be lost when searching for the right communication channel. Safar TeleCare is simplifying the communication workflow and giving time back to UPMC physicians and patients.
Named after Peter Safar, MD, the father of modern CPR and credited with launching the first intensive care unit in the United States, Safar TeleCare is a web-based application developed by UPMC Enterprises that's used to facilitate clinician-to-clinician specialty consults during the most critical times in the simplest way possible.
The Safar platform eliminates the need for complex call-center routing by giving bedside providers the ability to connect with specialists anywhere within the UPMC system using their preferred method of communication. The application can automatically triage based off rules set when the service line is being configured, saving time for both the bedside clinician and the specialist.
"Safar originated with UPMC's Critical Care Medicine team with the collaborative support of our clinical stakeholders, Robert Bart, MD, and Rachel Sackrowitz, MD. We have a lot of remote locations within the UPMC system. It's cost-prohibitive to put intensivists at each one of those locations, especially when some of these locations don't need a full-time intensivist," said Stacy Norman, director of Technical Product Management at UPMC Enterprises and veteran member of the Safar TeleCare team.
In 2019, when the Critical Care Medicine team started looking at software that could potentially help solve this issue, they found that there weren't any that were flexible enough to be adapted to the workflows used at UPMC. "Most were heavy solutions that included many integrations and specific hardware and were not provider friendly. None solved the basic workflow problem," Stacy explained.
Safar is a web-based application, meaning that there is no specialized hardware required and it can be accessed via a desktop, laptop, or smartphone. It was designed to accommodate the way a bedside provider works. Frequently, this is a mobile-first approach, since a bedside provider is typically going from one bed to another. All the provider has to do is touch or click an icon on their screen to access the app. Once the app has been accessed, the provider fills out an intentionally short intake form. They input the patient's name, date of birth, location, and basic service line-specific questions.
Depending on the service line, these questions can automatically prioritize a request as critical, urgent, or routine. Once those questions have been answered and the request submitted, the available specialists will receive a text message to the mobile phone number they entered on checking in to Safar. By leveraging text messages, the specialists are not required to constantly monitor Safar for updates. They know they will be alerted when another clinician needs their assistance and can manage their workload accordingly. Additionally, the text message includes the priority, giving the specialist the required information to decide how quickly they need to respond to the request.
The specialist has the option to call the bedside provider directly, call the location where the patient is, or video call with the bedside provider immediately. Unlike other applications currently on the market, Safar requires no additional downloads.
Before Safar, bedside providers would call MedCall, and MedCall agents would call through a phone tree of specialists to determine who was available to respond to the request. On connecting with a specialist, the MedCall agent would then work to get the bedside provider back on the phone, which is a time-consuming and error-prone process.
With Safar, available specialists log into the application, advertising their availability by checking in. No phone trees, and no delays.
"The approach Safar uses challenges the fundamental 'norm' of how things are done with a provider lens. Given the sheer size of UPMC, many of the things we do can be complex. We've found that with Safar, it was easy to move from a more 'command-center' approach to a more distributed model," said Debashish Sasmal, senior product manager at UPMC Enterprises and Safar team member.
Although the origin of Safar dates to 2019, the onset of the COVID-19 pandemic in 2020 is what turned the idea of Safar into reality. Hospital systems and their operators in various parts of the country were overwhelmed trying to manage the influx of calls and UPMC was no different.
The Critical Care Medicine team was receiving calls from all over UPMC. Six days after asking UPMC Enterprises for assistance in managing this previously unseen demand, the first working iteration of Safar was in use at UPMC to assist not only UPMC locations but also six hospitals in New York, including New York-Presbyterian.
"Even in its simplest form, Safar worked beautifully," said Stacy. "They were able to manage their calls and really get through that initial spike."
---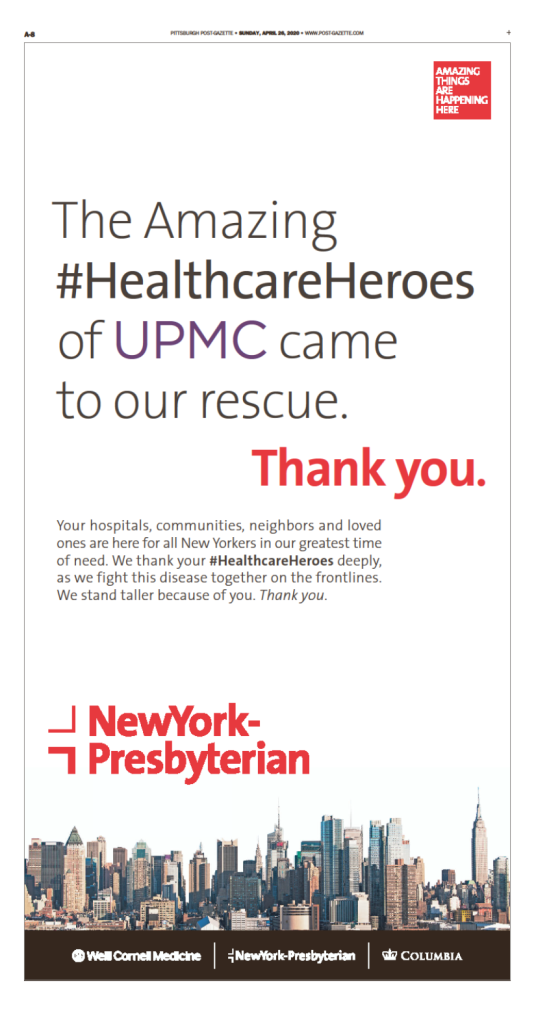 Pittsburgh Post-Gazette Advertisement placed by New York-Presbyterian who used Safar to manage an influx of patients during the COVID-19 pandemic.
---
Given the success at New York-Presbyterian, the ease of use, and the highly customizable nature of the application, it became evident that Safar could be used in service lines outside of just TeleICU.
"When setting up a new service line, we first spend time with leadership and users within that service line to really learn the ins and outs to help customize Safar to fit their needs," said Stacy. "After discovery is complete, it takes about two weeks for us to adapt Safar to a new service line from start to finish."
Safar is now in use at over 30 UPMC locations across TeleICU, TeleStroke, TeleNeuro, TeleToxicology, TelePsych, and TeleHospitalist with more service lines on the way and is having a significant impact. Within the TeleStroke service line alone, time to connect the bedside provider and the specialists is down 92% from the prior, call-center approach.
"We're seeing more patients and improving patient care," said Anthony Pizon, MD, chief of Medical Toxicology at UPMC. "Traditionally, it was a multi-step process to get ahold of us and for us to get ahold of the provider. Because of the simplified workflow, Safar provides, providers are being encouraged to contact us directly when they need us, and we can respond to them much more quickly than before."
As Safar continues to expand throughout the UPMC system, the team is also working on potential partnerships and expansion into other hospital systems. The Safar team is making the application even more robust and functional for current and future services.
"We're working on building solutions that will replace some of the functionality we currently have in place." said Stacy. With a simple, lightweight application, the Safar team and UPMC are leveraging existing resources to optimize and improve current processes and positively impact patient care. "Our primary goal is to get technology out of the way for bedside providers and limit the number of applications specialists must navigate to provide a consult."
"We are proud that we developed a simple, easy-to-use solution that has made a real, positive impact on both providers and patients," Debashish said. "By partnering and collaborating with our highly involved clinical stakeholders, we are creating innovative solutions that improve the lives of patients."
As new versions of Safar are built, tested, and released, many recognize the true ingenuity and drive it takes to create a technology that is directly affecting patient care. "There's a lot of work that goes into making something like Safar and making it so easy to use," said Stacy. "The engineering team here is a very dedicated and amazing group of people."
Although no one can predict the trajectory of telemedicine in the future, the minds at UPMC and UPMC Enterprises are blazing the trail to positively impact the lives of patients within our system and beyond. Or, as the late Dr. Safar would say, "The best way to predict the future is to create it yourself."
To learn more about Safar, visit Safartelecare.com. To learn more about the complete UPMC Enterprises portfolio and our Corporate Initiatives, please visit our portfolio page.