TECHNOLOGY SERVICES
Transforming

ideas into thriving businesses by providing technology accelerators to life-changing health care

innovators.
---
Recommendations and plans to help you leverage technology to meet your business goals.
Service offerings include:
Technical Evaluation and Due Diligence
Introduce transparency into the technological position of a potential investment.

Technical Feasibility Assessment
Turn your ideas into reality by leveraging our expertise and vast experience in health care delivery and technology development.

Exploratory Analytics Services
Our service empowers investment firms by turning complex data into actionable intelligence.

Product Strategy and Roadmaps
Stand out from the competition armed with well-prepared roadmaps that support your strategic vision.

Technical Data Room Creation
Ensure your data room is designed, populated, and organized in a way that will positively impact due diligence and evaluation activities.
INFRASTRUCTURE AND SECURITY SERVICES
Infrastructure and security services that provide security, data integrity, and compliance for institutional activities.
Service offerings include:
Rapid IT Risk Assessment
Gain a clear and objective understanding of your overall security posture with the Rapid IT Risk Assessment within a few days, not weeks.

Security and CVE Assessment
Ensure your product, organization, and supporting organizational controls are secure and protected against potential harm.

IT Policy and HIPAA Training Design
We can help you develop your IT policies, train your staff, and establish a baseline compliance program focused on HIPAA requirements.

Managed Cloud Services
We offer flexible, secure, cost-saving, cloud-based solutions that are backed by the support you need to put your mind at rest.

Incident Response Planning
Improve your IT security and data protection capabilities by leveraging our health care specific knowledge base and extensive institutional experience.

HITRUST CSF Assessment Support
You can rely on our expertise to efficiently navigate all stages of the HITRUST audit and certification process and address any questions that may arise.
PRODUCT ACCELERATION SERVICES
Recommendations and plans to help you accelerate your product's acceptance, growth, stability, scalability, and more.
Service offerings include:
Product Design Services
By engaging with us you will reduce uncertainty and increase your confidence in the quality of your product.

Technical Advisory Services
Gain insights on using health care technology to achieve your business objectives and goals

Interviewing and Staff Evaluation
Make the right hiring decision the first time, improve employee performance and productivity, and achieve greater success in your industry via our proven tools and techniques.

SDLC Best Practices
Improve quality, increase efficiency, reduce risk, enhance regulatory compliance, lower costs, and get to market faster by ensuring your engineering processes are optimized and adhere to best practices.
DATA AND ANALYTICS SERVICES
Data driven insights can enable strategic decisions to drive your organization's growth and success.
Service offerings include:
Engineering Advisory Services
With our industry experience, commitment to excellence, domain knowledge, and determination to create high-caliber solutions, our Data Engineering team can help to drive organizational success and adaptability.

Product Analysis Services
Our analytics and informatics experts work with early-stage companies to build personalized analytics solutions that can foster your organization's innovative mindset and empower data-driven decision-making.

Outcomes Analysis Services
Maximize the value of your data assets and gain a competitive edge with our Outcomes Analysis as a Service.

Alexandria Charts
Our platform's APls enable aggregating, searching, and analyzing unstructured data sources and formats, unlocking valuable insights for enhanced patient care and driving business growth.
Help you meet the potentially daunting IT and security requirements of large and complex health care systems like UPMC.
Service offerings include:
Compliance with UPMC IT Requirements
Avoid roadblocks and accelerate onboarding UPMC as a customer via our team's hands-on assistance and advisory services.

UPMC Deployments Support
Accelerate your efforts within UPMC and drive outcomes via step-by-step guidance from our expert Project Managers.
---
View our full Technology Services catalog.
See how UPMC Enterprises can help you transform your idea into a thriving business through technology.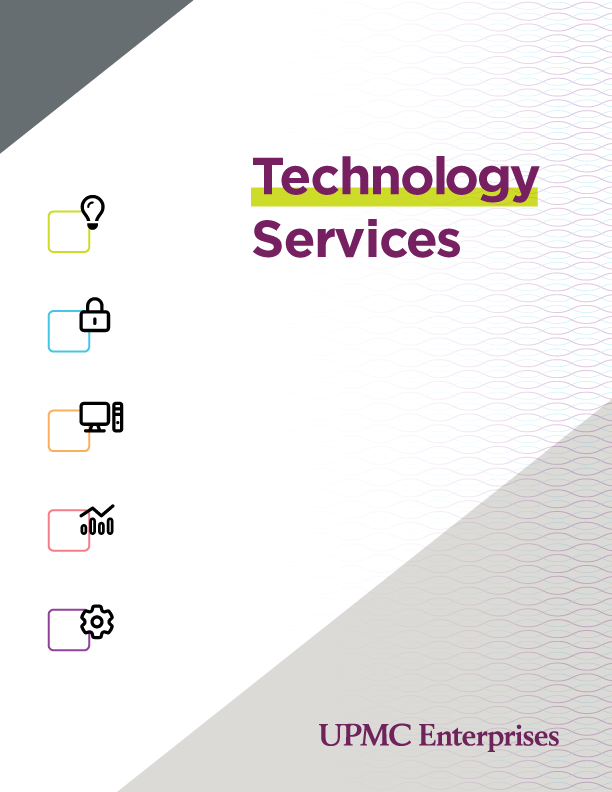 View our full Technology Services catalog.
See how UPMC Enterprises can help you transform your idea into a thriving business through technology.