TECHNOLOGY SERVICES
We offer a full suite of technology services to help your business
solve

problems,

create

innovative solutions, and

deliver

outcomes.
We work closely with organizations to manage and accelerate their technology efforts by leveraging our knowledge and experience to expedite and optimize projects – while simultaneously reducing both their risk and cost. We support all stages of a health care technology venture's lifecycle with strategic, implementation, and operational support services.
Read below for an introduction to each of the services that we offer. For more in-depth details, we invite you to browse our full services catalog.
---
Recommendations and plans to help you leverage technology to meet your business goals.
Service offerings include:
Technical Feasibility Assessment
Evaluation of the technical barriers and opportunities to the realization of a new idea

Product Evaluation and Technical Due Diligence
Expert analysis of the viability of new investments
Consultative services to help you run the most efficient business operation possible.
Service offerings include:
Program/Project Support for UPMC System Deployments
Administrative support for the launch of new systems or services

Software Development Lifecycle (SDLC) Best Practices
Assessments of SDLC maturity and recommendations for improvement

Technology Advisory Services
Expert advice on a comprehensive range of technical disciplines
Highly flexible and rapid custom solution services in support of proof-of-concept development.
Our team can provide mentorship and management support through our professional services offerings – or we can directly build your prototype.
Service offerings include:
Product Design and Proof-of-Concept Services
Support the definition of design concepts and the building of POCs in an iterative, user-research-driven process

UPMC Clinical Data Engineering Services
Expert advice on the identification, acquisition, and delivery of clinical data sets
Enabling our partners to deploy and run production workloads to meet current and anticipated business demands.
Service offerings include:
Alexandria Charts Services
A scalable, enterprise-grade platform for provider and payer unstructured data. Alexandria Charts is available as Software as a Service (SaaS) in a multi-tenant cloud configuration or may be licensed and self-hosted in your data center

Application Support and Maintenance
Support and maintenance for actively used UPMC Enterprises applications where UPMC IT and/or supply chain groups lack the necessary expertise

IT Support for Business Operations
Assessment of your IT infrastructure needs (e.g., phone, cabling, internet, networking) designed to accelerate your startup

Managed Services for the Cloud
Secure, scalable, and reliable cloud solutions built on Amazon Web Services (AWS) technology
Security and Compliance Services
Infrastructure and services that provide security, data integrity, and compliance for institutional activities.
They include information risk management, audit and monitoring systems and services, and data access and stewardship.
Service offerings include:
IT Risk Rapid Assessment
A web-based questionnaire that offers a preliminary measure of an organization's readiness for HITRUST certification

HITRUST Common Security Framework (CSF) Assessment Support
Coordination of the HITRUST CSF certification process

IT General Control Assessment
Assessment of the overall security risk posture of an organization

Incident Response (IR) Management
Coordination of activities to mitigate security breaches and IR planning
---
Download our full Technology Services catalog.
See how UPMC Enterprises can help you transform your idea into a thriving business through technology.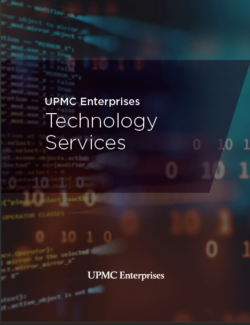 Download our full Technology Services catalog.
See how UPMC Enterprises can help you transform your idea into a thriving business through technology.