MyUPMC
Providing
control

and

convenience

to UPMC patients through

secure

, comprehensive access to personal health information

24/7

.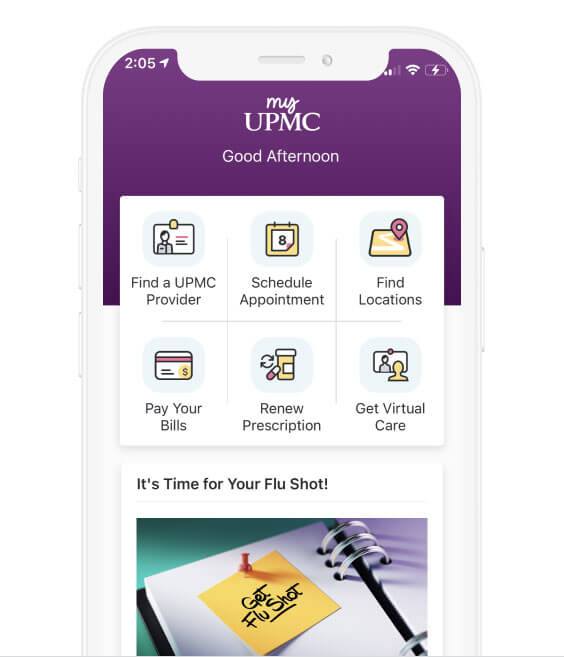 Through our living lab, we deliver UPMC's consumer digital platform.
MyUPMC is a secure website and mobile app used by more than 60% of UPMC's patients, allowing UPMC Enterprises to test, demonstrate, deploy, and scale new health care innovations with our patients. The MyUPMC team at Enterprises partners closely with providers, IT, and operations to empower patients to engage with UPMC in new ways throughout their care journey.
The team brings together product and business strategy, clinical leadership, operational expertise, and consumer technology to represent the needs of our patients, our provider community, and our business in a differentiated platform. UPMC's unique integrated delivery and finance system model, along with our multi-EMR footprint, requires a seamless patient experience regardless of the underlying technology.
60+% of UPMC patients use MyUPMC
70+% of MyUPMC users are mobile-first
2MM+ monthly logins
4.8 star app store rating
8x increase in digital scheduling
---
Consumers are well-adjusted to digital interactions in banking, retail, and other sectors, and we aim to advance digital consumer health using similar underlying, consumer-grade technology. With the recent growth of on-demand access, same-day delivery, and virtualized services, consumer expectations have been redefined. In this new era, UPMC recognized an opportunity to build a digital patient experience that combined best-in-class tools to manage health care, while recognizing new opportunities to transition to a digital-first delivery model.
---
MyUPMC is a platform that helps patients manage all the steps of their care journey with UPMC. Strategically, MyUPMC aims to be the patient's gateway to the health system by improving the patient experience, convenience, and transparency in care. Operationally, MyUPMC adds digital alternatives to office and physical location workflows and improves patient access through online scheduling and telemedicine.
This approach is intended to support four goals:
---