"Our mission at the outset was to uncover and accelerate groundbreaking life sciences research in labs university-wide, and the first experience was such a success, we're excited to keep the momentum going," said Anna Mamo, Director of Translational Sciences supporting portfolio development at Enterprises.
Given the overwhelming totality of exciting research at Pitt, the Translational Sciences team has taken the approach of focusing RFP efforts on select therapeutic areas and scientific themes, which change from year to year based on clinical and scientific trends.
RFP 2023
This year, the Translational Sciences team has selected four key areas of focus for the RFP, which launched in August 2023. These areas include:
PRECISION CARDIOVASCULAR DISEASE. Novel therapeutic approaches for diseases of the heart and vasculature (CHF, Cardiomyopathy, Coronary Artery Disease), focused on approaches with clear genetic linkage and/or evidence-based, biomarker-driven patient selection strategies.
PRECISION METABOLIC DISEASE. Novel therapeutic approaches for rare or common metabolic diseases (mitochondrial disorders, obesity, Type 2 Diabetes) focused on approaches with clear genetic linkage and/or evidence-based, biomarker-driven patient selection strategies.
CHRONIC KIDNEY DISEASE. Novel therapeutic approaches for addressing IgA Nephropathy, FSGS, ADPKD, Diabetic Nephropathy, Senescence-Mediated Kidney Diseases, and other chronic kidney diseases.
NEXT-GENERATION RNA THERAPIES. Emerging therapeutic RNA technologies (t-RNA, lncRNA) and novel RNA-targeting technologies (e.g. RNA-targeting small molecules, short regRNA) that go beyond mechanisms for approved therapies.
RFP 2022 – Therapeutic Areas and Winners
In 2022, the RFP focus areas included rare neurological disorders, unsolved autoimmune disorders, and women's health – three important therapeutic spaces with urgent needs for new medicines. We are proud to announce that there were two awardees of funding, both in the category of rare neurological disorders.
Rare Neurological Disorders
In 2014, the Ice Bucket Challenge ignited a wave of therapeutic research on amyotrophic lateral sclerosis (ALS), leading to the accelerated approval of two novel treatments – QALSODY™ from Biogen (2023) and Relyviro™ from Amylyx (2022). While these approvals are tremendous achievements for ALS patients and their families, more therapies are sorely needed to further support those battling this devastating disease.
Moreover, ALS is just one of the estimated 3,000-4,000 rare diseases that affect the central nervous system. These frequently overlooked conditions (including Huntington's Disease, Charcot Marie-Tooth Disease, Progressive Supranuclear Palsy, and various forms of Muscular Dystrophy) can inflict substantial cognitive and physical impairment, disability, and mortality, often with a tragically limited set of approved treatment options.
Awardee #1: Small Molecule Therapy for PSP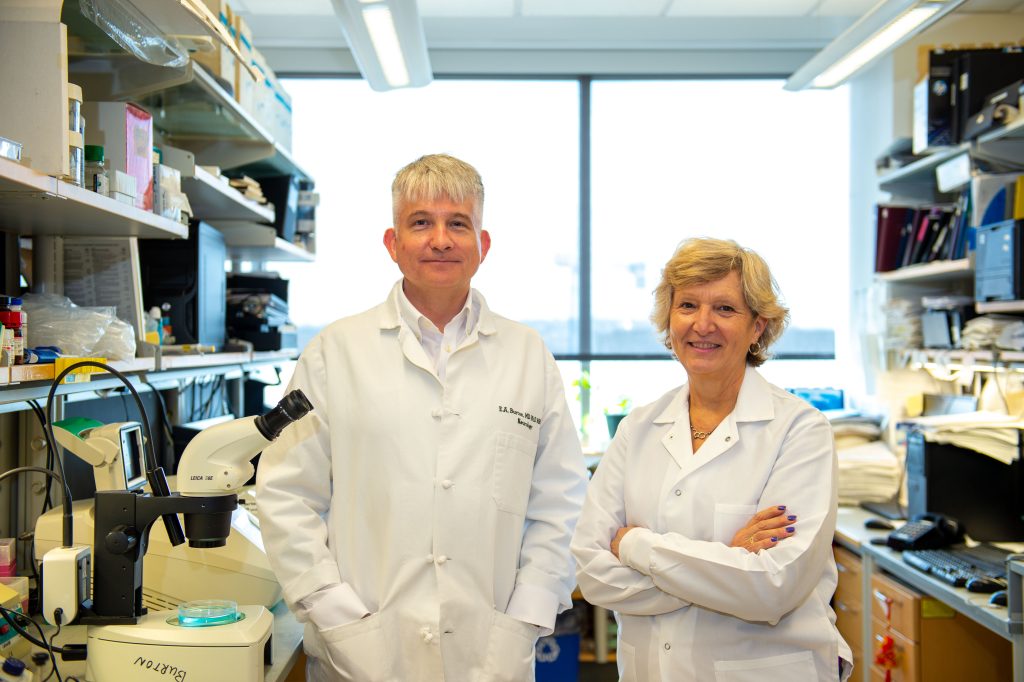 Translational Sciences was thrilled to announce a funding commitment in this category to Dr. Ed Burton and Dr. Donna Huryn, a cross-disciplinary team focused on developing a small molecule drug to combat damage to neurons caused by progressive supranuclear palsy (PSP). PSP is a rare and slowly progressive neurological disorder that first limits patients' abilities to walk normally, resulting in falls and injuries, and ultimately leads to immobility, dementia, impaired speech, difficulty swallowing, and loss of life. This devastating deterioration occurs on the order of 5-8 years from diagnosis, and no treatments exist to halt or delay this progression.
Dr. Burton operates a clinic for sufferers of PSP at UPMC, and in his other roles as principal investigator for the Pittsburgh Institute for Neurodegenerative Diseases at the University of Pittsburgh and Professor in the Department of Neurology, he is working to change the course of this disease, leveraging unique models that replicate key facets of neurodegenerative disease and using them as screening models for new small molecule drugs.
Dr. Huryn, formerly Professor in the Department of Pharmaceutical Sciences at the School of Pharmacy at Pitt and now Professor of Practice in the department of organic chemistry at UPenn as of September 1, is an expert in small molecule drug discovery and development, and together with Dr. Burton, has devised a novel therapeutic strategy for ameliorating the crippling neuroinflammation that likely drives PSP clinical progression.
The funding from UPMC Enterprises will support experiments in Dr. Burton's unique model of neurodegenerative disease to test small molecule candidates identified by Dr. Huryn's lab, then take molecules they discover into more advanced efficacy models.
"We're thrilled to collaborate so closely with the world-class investigators and the Innovation Institute at Pitt" said Matthias Kleinz, Executive Vice President at UPMC Enterprises and Head of Translational Sciences. "Few physicians and scientists in the world understand PSP as comprehensively as Dr. Burton, on both a pathophysiological level and in terms of the patient journey. We're very eager to support Ed and Donna in their pursuit of a transformative therapy benefitting PSP patients and their families."
Awardee #2: Gene Therapy for LAMA2-CMD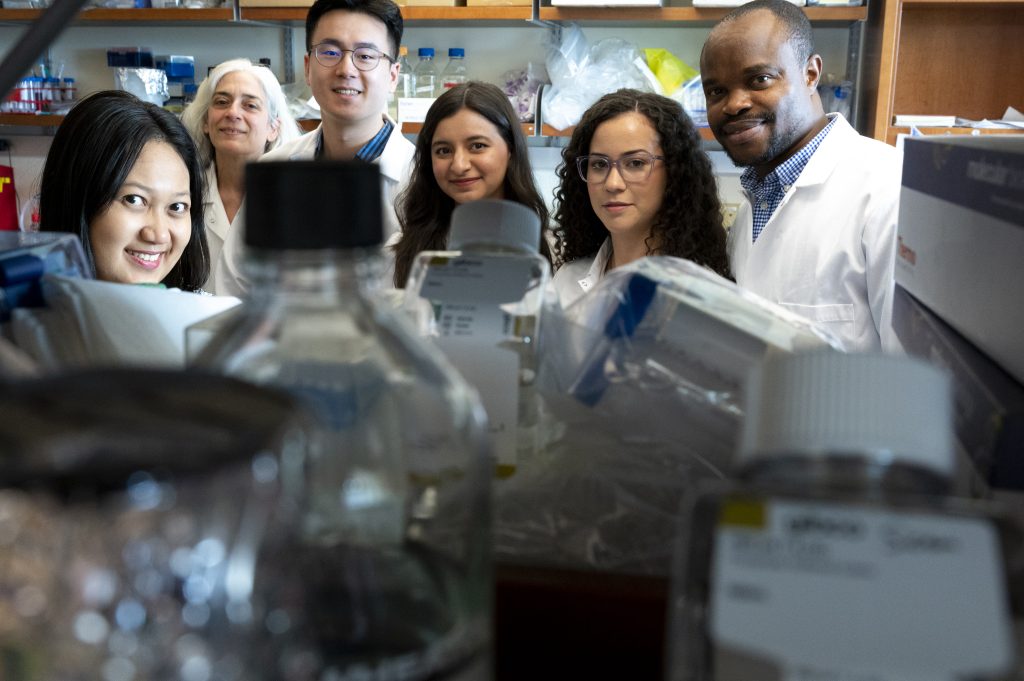 LAMA2-related congenital muscular dystrophy is a disorder characterized by severe wasting of the skeletal muscles, with symptoms presenting within the first six months after birth. Eventually, patients with severe LAMA2-CMD succumb to the disease, and currently there are no approved therapies for this devastating condition – a fact that Dr. Dwi Kemaladewi, Assistant Professor of Pediatrics in the Pitt School of Medicine, is eager to change.
Dr. Kemaladewi has dedicated her research career to tackling challenging congenital muscular dystrophies. She and her team have designed a novel gene engineering strategy to restore muscle function in children with LAMA2-CMD. Rather than correcting individual mutations in the LAMA2 gene, which would take up to 600 different therapeutic constructs, Dr. Kemaladewi has designed a one-size-fits-all approach for preventing disability and mortality in these patients, upregulating a compensatory protein to restore muscle function in a mutation-independent manner.
Dr. Kemaladewi and her team, in collaboration with Dr. Rob Nichols, Professor of Pediatrics at the Pitt School of Medicine, also developed a way to deliver the gene therapy, which had previously required two engineered viruses, or vectors, in a single vector. Delivering the therapy with a single vector will reduce potential toxicity of the treatment as well as the cost. They initially focused on showing the efficacy of the therapy before the severe symptoms developed. In humans, however, symptoms and diagnosis of muscular dystrophy do not usually occur until several months after birth. They now turn to showing whether their novel therapy can help reverse nerve and muscle cell damage that has already occurred, and the funding from UPMC Enterprises will support experiments to understand the efficacy of this novel gene therapy at time points reflective of real-world scenarios. Dr. Kemaladewi and the team at UPMC Enterprises are excited for the potential of their work and future impact on children.
"While we celebrate very recent successes of gene therapy in the treatment of muscular dystrophy, more innovation in this space is clearly needed – both to support patients suffering from rarer genetic forms of muscular dystrophy such as LAMA2-CMD, and to leverage emerging therapeutic technologies such as CRISPR-activation" said Matthias Kleinz. "Dr. Kemaladewi has dedicated her career to unraveling these rare dystrophies, and to finding novel solutions that have the potential to restore patient mobility, independence, and quality of life. We are thrilled to support her mission to positively impact this underserved pediatric patient community."
While there weren't any awards made in the categories of unsolved autoimmune disease or women's health, the Translational Sciences team remains interested in novel therapeutics in these spaces and is always eager to evaluate research projects outside of an RFP in these spaces. Our commitment at UPMC Enterprises is to enable the next generation of life-changing medicines, for patients in our system and worldwide. In parallel, the incredible scientific talent assembled within the University of Pittsburgh Life Sciences research ecosystem routinely pioneer breakthrough approaches that make such medicines possible. Through our unique and industry-leading partnership, UPMC and Pitt accelerate the translation of novel discoveries from the lab to the clinic, and ultimately towards FDA approval of first-in-class medicines.