Running a tight ship, from a coffee shop to leading UPMC's digital front door.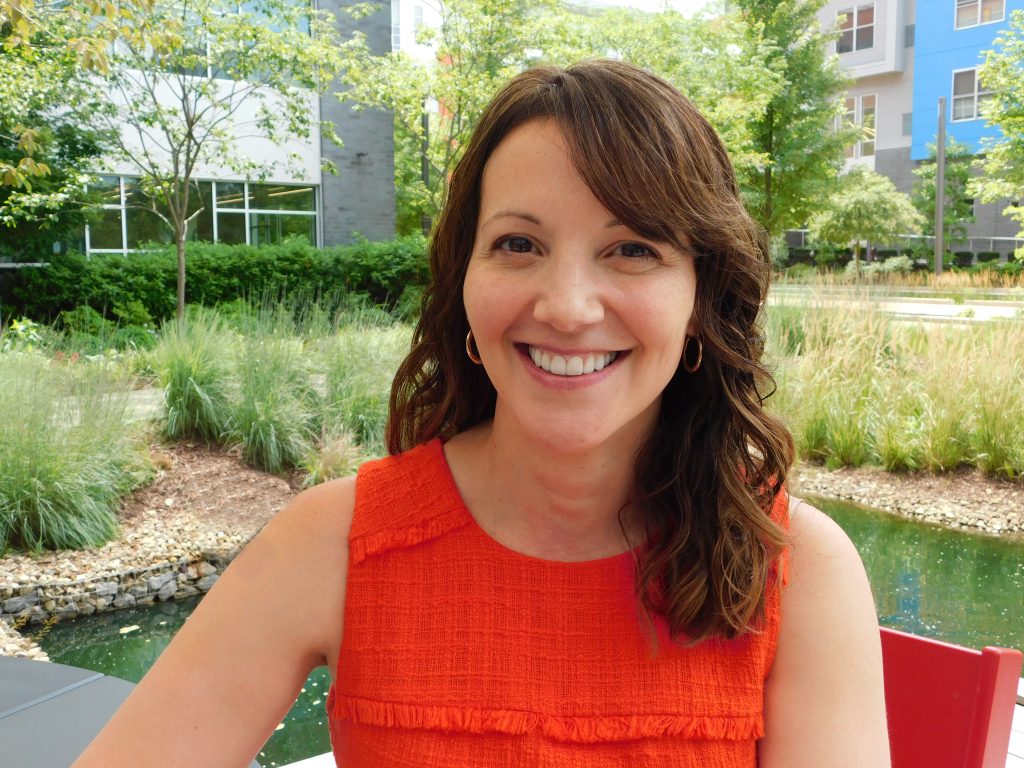 As the Vice President in charge of MyUPMC, Katie Scott drives the strategy for shifting UPMC's traditional patient portal into a "digital front door" to the health system. Scott works with a broad range of stakeholders to integrate digital tools into the health system, and oversees a team of product managers, software developers, and designers building out that vision.
Scott, who joined UPMC in 2012, has a background in product design and development and earned bachelor's and master's degrees from Carnegie Mellon University. The work to transform MyUPMC into a patient-centered digital health care hub is no small task. But Scott says she's always enjoyed working on projects that involve creating new things.
"I like health care because it's complicated, it really matters to people, and it's ripe for big changes," she says. We sat down with Scott to learn more about MyUPMC and what she's doing to build digital health at UPMC.
Describe your current role/responsibilities at UPMC Enterprises.
My charge is to build out a "digital front door" for UPMC, and we're using our existing patient portal, MyUPMC, as a launching point. So, while we work on what's new and to come, we also manage the existing portal, which serves more than 15,000 patients each day. The portal today enables basic transactions: see test results, view appointment summaries, or message a physician. MyUPMC has been available since 2008, and we have great traction with patients already, so we're trying to build on that success.
We're repositioning MyUPMC as the primary digital tool where patients interact with the health system and manage their health more broadly. The goal is to add compelling features for our existing user base that can also attract patients to UPMC in the future. MyUPMC will become the starting point for managing your care digitally, whether that's telemedicine, health information, health insurance information, etc. We're not there yet – but we're getting there.
The MyUPMC team includes both our product and development teams, all working together to develop new features and a better MyUPMC experience for our patients. My team coordinates the myriad of operational efforts, with stakeholders across the organization — clinical activities, IT, operations, marketing, and more — to make the digital experience real.
What kind of work did you do before you came to UPMC, and how have those experiences informed what you do now?
My background is in product design and development, in the overlap between the technology and the people trying to use it. I've always found it interesting to work on things that didn't exist yet or find ways to take existing ideas and combine them in new ways. I started my career in government and military space, working on collaboration tools, planning software, and analysis software. That work carried over nicely into health care: it's data-heavy, it's mission-critical, and it's complex. Prior to UPMC, I worked in consulting and had the opportunity to design new health care products and services, particularly for diabetes. I joined UPMC to work in health care full-time, to do the messy work to make those new ideas into something real. Health care is a fascinating industry, and even 10 years later, it's difficult, it's messy, there are a million details to solve for, but it really matters to get it right for people. The challenges change all the time, so it's never close to boring.
Health care is often criticized for giving consumers a less-than-ideal user experience. Is that a fair criticism and what are you and your team doing about it?
Absolutely, it's a fair criticism. It's no secret that, digitally-speaking, health care is 10 to 15 years behind other industries. Patients can't yet do basic things that are "table stakes" elsewhere. We rely on paper, the telephone, the fax machine, in many ways. It's difficult to build a digital patient experience and there's still a lot of groundwork and infrastructure that we are working to put in place.
Another challenge is that a lot of the health care system has been designed to be efficient for physicians, not to be accessible for patients. But, the convenience patients expect elsewhere (digital payments, grocery delivery, customer service) means we need to catch up. Of course, patients expect to email their doctor a question or jump online to book their next appointment – they don't want to call in during business hours or leave a voicemail and play phone tag to get what they need. Those are the kind of problems we're working to take apart and solve, and that means revising existing processes rather than starting from scratch.
Why is this a priority for UPMC?
MyUPMC is a priority not just because of the patient experience but because a digital platform can also drive efficiency for the health system. Some of the benefits are obvious: there's no mailing cost when patients can see their test result online. The second layer of efficiency comes from moving simple tasks to automation or self-service: prescription refill reminders, basic appointment scheduling, payment plans, etc. Long-term though, we believe digital access gives us a better way to interact with our patients — conveniently, more often, on their terms — which will drive better outcomes and keep people healthy. If we know you're due for a mammogram or a well-child visit, shouldn't we reach out to remind you? If we can do it in a way that's thoughtful, culturally-sensitive, and convenient, we can nudge overall health in the right direction.
There are a bunch of upsides for everyone involved, but it's going to take focused effort and the time to get there.
Describe the changes that have been made so far to MyUPMC? What's the goal state?
So far, the work has been getting our arms around the platform we have today: all the touchpoints inside the system that impact what we can deliver online. There have been a series of small changes where the systems are faster, more reliable, easier to use. Behind the scenes, we've done a lot to integrate MyUPMC with our technical, operational, and clinical partners.
We're also much more focused on learning from our data: which features are popular, how the tools are used, who our users are, etc. This helps us prioritize our efforts and define what's next. For example, we learned that most usage happens around an appointment. It's common sense, but how can we leverage that pattern? Can we put that data all in one place, so it's easier to find? Can we serve up other relevant info, to help you understand your test result? Can we remind you to book your follow-up while you're here? That's where we're headed.
A major goal is to bring more patients onto the platform. About 30 to 40 percent of all UPMC patients have a MyUPMC account today, so we're continually working with clinicians to get the word out about using MyUPMC as an everyday part of the care experience. The biggest change so far has been the release of mobile apps: we jumped to 100,000 users in the first six months, which shows us the interest is there. We recently added online scheduling to our app, which has had a big impact even in the first few weeks. There's more to come, obviously, but it should accelerate from here.
What was your first job and what did you learn from it?
My first job was working at a coffee shop near my hometown in Ohio. It was a very popular neighborhood spot with a busy morning rush. The owner was a retired Army veteran, who was a great boss but ran a very tight ship. When you ran the counter, he expected you to stay on top of 10 different things at once – making sure the line was moving, the coffee was brewing, the dishes were clean, the bakery was stocked, the lids were stacked, the floor was swept, the trash was out – all while making things look seamless. I loved trying to keep that chaos under control. It taught me to operate under pressure, think a few steps ahead, recover from mistakes, and find ways to make customers forget they were waiting in a line out the door.