Leader focused on providing the solutions and science that keep UPMC 'ahead of the curve'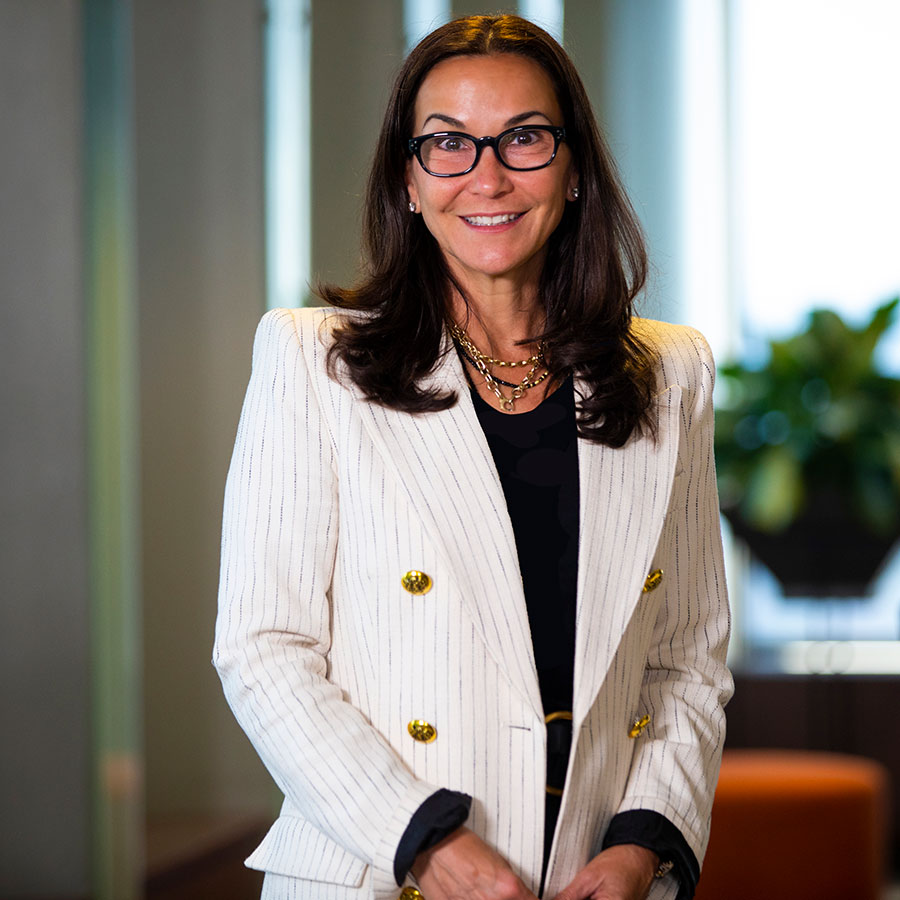 As head of UPMC Enterprises, the venture capital, commercialization, and innovation arm of UPMC, Jeanne Cunicelli aids the health system's efforts to improve quality, efficiency, and patient experience through investment and testing of new technology solutions. The division develops solutions for the broader health care market through two focus areas, Translational Sciences and Digital Solutions, and several strategic initiatives including MyUPMC.
Cunicelli, a veteran venture capitalist in the life sciences industry, joined UPMC in 2017 to lead the Translational Sciences focus area. She was named President of Enterprises in January 2021.
Translational Sciences accelerates scientific discoveries into life-changing medicines, diagnostics, and devices by forming startup companies that combine the ground-breaking research from the University of Pittsburgh with the incredible clinical and other patient-facing resources of UPMC. Additionally, Translational Sciences complements those startups with a portfolio of investments from more traditional sources such as venture capitalists and entrepreneurs.
Through its Digital Solutions focus area, UPMC Enterprises leverages UPMC's scale and health care insights to provide clinicians, payers, and consumers with engaging technology that improves the quality and cost-effectiveness of health care. Harnessing talents from a team of engineers, designers, and product managers, the Digital Solutions team has amassed an impressive track record of successful company launches, partnerships, and exits.
MyUPMC is UPMC's "digital front door" that enables a continuous relationship between consumers and UPMC and a key access and integration point for the increasing number of digital health tools being integrated by UPMC into patient care. The Enterprises-led development of MyUPMC reflects UPMC's priorities of increasing patient access and improving quality and has been a mainstay through the COVID-19 pandemic for patients who could otherwise not see their providers in person.
Prior to joining UPMC, Cunicelli was a managing director at Bay City Capital in San Francisco. She has more than two decades of experience as a life science venture capital investor and advisor. It was during her time in venture capital that Cunicelli met Tal Heppenstall, former President of Enterprises, and began working with UPMC. That relationship ultimately led her to join UPMC.
"What drew me to Enterprises was UPMC's entrepreneurial mindset and history, how UPMC grew and yet maintained its ability to adapt to change and incorporate new ideas," she said. "It was easy to see what makes the organization so special and even easier to see the potential for Enterprises to play a major role in the system's evolution. Enterprises is built to leverage the vast competencies and resources of UPMC and the University of Pittsburgh – including our patient base, health plan, and provider system, among others – to drive value and create new revenue streams for the organization."
We talked with Cunicelli to learn more about her vision for Enterprises and the future of the division.
What are your biggest priorities as president of UPMC Enterprises?
One of my big priorities over the past 15 months is making sure all our teams at Enterprises feel part of one team. We have teams working in different parts of health care, from technology and digital solutions to cures for life-threatening diseases. As a leadership group, we are constantly thinking of ways to create opportunities for cross-team collaboration and tighter linkages to our hospital and health plan colleagues.
The collaboration was made even stronger through our health system's response to COVID-19, which highlighted the importance of Enterprises' innovation goals to support patients and clinicians. We were honored that our efforts helped frontline workers continue to provide care to our patients during the pandemic and it was a privilege to witness how all Enterprises' team members rallied around the response.
I am so proud of the team we're building and our culture. We have a truly world-class network of experts who are striving to positively impact the health care system — whether that's software developers, investment professionals, product managers, scientists, entrepreneurs, or others.
Our forward-thinking team allows us to focus on where our hospital system is heading and what it needs to stay ahead of the curve. That work includes fostering many opportunities with technology for our providers and patients, and also the life sciences solutions focused on healthy aging and diseases. Our goals are forward-looking because Enterprises has such an important role in the future of UPMC.
What types of companies, entrepreneurs, and investment opportunities is UPMC Enterprises interested in, and do you see it evolving in the future?
We're always looking for opportunities that improve patient care at UPMC and across health care globally. At the end of the day, because we're inside one of the largest integrated health systems in the country, we're fortunate to have a bird's eye view of how treatment is delivered to patients — and that allows us to take a discerning look at the whole patient journey, including drugs, devices, and digital solutions.
We build solutions and companies from the ground up, working with our own founders in many cases who want to improve and advance health care. It's exhilarating to consider the intellectual capital, resources, and capabilities that Enterprises can access from the University of Pittsburgh and UPMC. The wealth of knowledge available to us places Enterprises in an enviable position of being able to tap experts and never lose sight of the patients those experts are serving.
Look at Infectious Disease Connect, a company that we helped build from the ground up with experts at UPMC. ID Connect is leveraging deep expertise of UPMC physicians to help fill a need for specialty care at hospitals outside our network, and it's seeing tremendous success. Or Novasenta, a life sciences company we incubated based on discoveries by top oncology scientists at UPMC and Pitt. Those efforts are our foundation because they reflect the strength of UPMC and Pitt and because they provide us with breakthrough solutions to health care's largest challenges.
Additionally, we seek companies and people from outside of Pittsburgh that complement the work we're doing here. For example, we recently partnered with BrainCheck, which has developed a digital cognitive test for mental impairment that enables more patients to access much-needed care. And Code Biotherapeutics, one of our portfolio companies in the life sciences space, recently announced a partnership with Takeda for its genetic medicine delivery platform. These two examples show that we're interested in finding the best solutions — be that within our Pitt and UPMC environment or elsewhere. The crucial factor is that the solution, wherever we find it, must provide the most optimal path for patients.
How will you and UPMC define the success of UPMC Enterprises – is it more than the bottom line?
Enterprises' success is much more than the bottom line — our success is reflected in the success of UPMC more broadly, namely optimal care and access for our patients. First and foremost, we always consider how we are impacting and improving patients' lives. That can be through improved therapeutics, better patient access to care, navigation of our system, or compliance with medications, to name a few.
To me, the ultimate outcome of the work we do at Enterprises is creating a better journey for our patients, regardless of their situation. That means Enterprises must invest in solutions with high transformative potential for the betterment of patient journeys — and, if we accomplish that, then Enterprises' success can be measured through financial, operational, and reputational gains.
Yes, we are the commercialization arm of UPMC, and we will benefit the health system with dollars returned on our investments. But the true measure is, have we fundamentally changed the patient journey for the better?
Then there's also an internal metric of success that has to do with the culture we are fostering here at Enterprises — it is a culture of learning and calculated risk-taking that helps our team members achieve their career ambitions and positions Enterprises and UPMC for growth. Our success hinges on our people and we have amazing teams filled with people who want to excel and are passionate about our mission-driven purpose. Our mission to improve care for patients — to enable life changing medicine — is front and center in everything we do and drives our success. This is one of the measures of success I'm most excited about.
What was your first job and what did you learn from it?
When I was a teenager, my family bought a beach house, and my siblings and I were so excited to spend the summer there. But my father wouldn't allow us to just hang out all summer. We had to have jobs. I took orders at a burger shack and cleaned hotel rooms on the weekends. He taught us there was no job or task that was beneath us.
My father believed strongly that you must be a contributor and find opportunities to improve your situation. That lesson has been with me ever since, from working as a special education teacher after college to being an administrative assistant through to my experience as a venture capitalist. And now to the present, where I have the privilege of working for one of the most successful integrated health systems and participate in truly improving a patient's journey.