Hear from Dr. Rebecca Jacobson, President of Astrata, and Dr. Mani Mohindru, CEO of Novasenta, as they share their stories in honor of Women's History Month.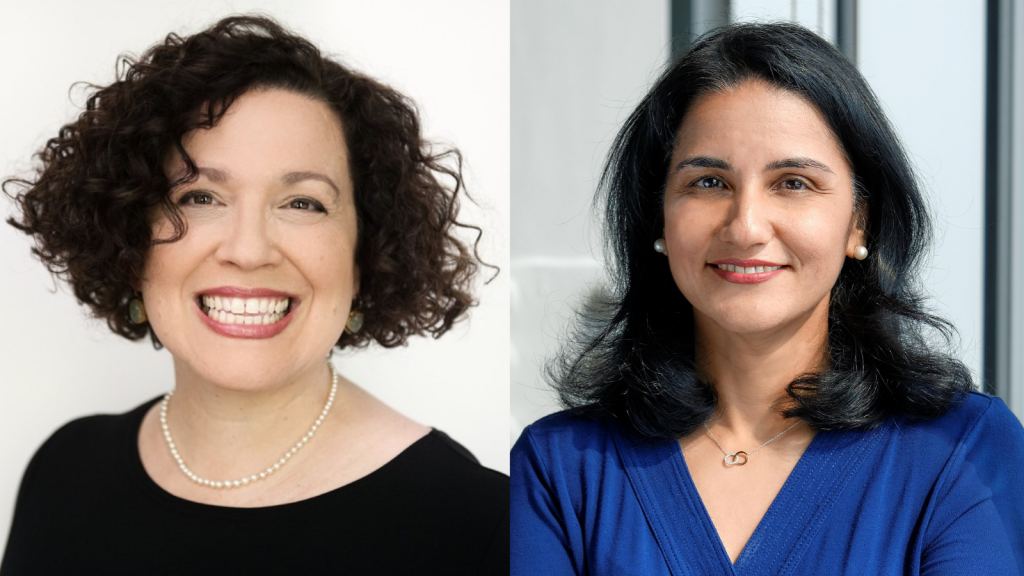 Rebecca Jacobson, MD, and Mani Mohindru, PhD, both know what it's like to be the only woman in a room full of men.
As two female leaders of biomedical/ biotechnology companies — Dr. Jacobson is the President of Astrata and Dr. Mohindru is the CEO of Novasenta — this particular situation has come up numerous times throughout their careers. It isn't surprising, especially considering that women only make up 28% of the STEM field, according to the AAUW.
Dr. Mohindru said when put in this unbalanced scenario herself, she always preferred to take a more lighthearted approach.
"I tried to come at it with a little bit of humor. I would go to a meeting with all men in suits – very smart suits – and would crack jokes, like, 'Hey, I'm just the admin here to take notes,' or something like that," Dr. Mohindru said. "You have to sort of take it with a little bit of humor."
With a background in academia, Dr. Jacobson mostly recalls her time as the only female in the classroom during her informatics training. For her, it ended up being crucial to her professional development.
"It was very common for me to take a course with 15 people in it, and I was the only woman," Rebecca said. "It requires you to learn to be just as assertive as the guys are in order to be heard. And so, I did learn how to do that, which was maybe not something that I naturally had. It was something that I developed through those early experiences."
In 2022, women still have a long way to go to achieve equality. However, as more and more women are encouraged to enter the STEM field and to take on leadership roles, Dr. Jacobson said there is a clear difference today.
"There are many more women in the room now," she said.
Dr. Mohindru received her PhD from the Department of Immunology within the Program of Neuroscience at Northwestern University. In a strange turn of events, her early career journey involved a period of time on Wall Street in New York City as a biotech analyst. After her Wall Street career, she has been a part of the C-suite in a few clinical-stage, public biotech companies.
This intersection of science, finance and business was a precursor for the rest of her career – despite it being a bit "unique."
"Science is a very stereotypical career path for Indians, but I think I'm probably one of the only people in my family who saw a happy marriage of science and business/ finance," she said. "For what it's worth, my time at Wall Street was probably the most I've ever learned about drug development, big & small biotech companies and different therapeutic areas, ever. The rigor of diligence, the science, talking to investors who were both PhDs and MDs on the other side – it is learning that I will carry with me throughout my career."
Today, Dr. Mohindru is the CEO of Novasenta, a company that focuses on the discovery of novel therapeutic targets to ultimately develop new treatments that will transform the lives of patients with cancer. The company launched in the fall of 2018 and Dr. Mohindru joined in April 2021.
"Novasenta is the most early-stage company I've ever worked at," Dr. Mohindru said. "The founders' academic record and the science spoke to me a lot. I also found something very unique in the relationship with UPMC Enterprises, which is a model I had not seen elsewhere."
As a leader herself, Dr. Mohindru has been inspired by some of the other female leaders she's worked with at UPMC and UPMC Enterprises, including Jeanne Cunicelli, President of UPMC Enterprises and Executive Vice President of UPMC, as well as Leslie Davis, President and CEO of UPMC.
"It's been very refreshing to have the opportunity to work with Jeanne closely as an investor from UPMC Enterprises, as well as a board member at Novasenta," she said. "I also recently met with Leslie Davis, and we had a great hour-long conversation all about the company and the promise of the science. It's great to see women in influential positions making a difference. Female role models are right in front of you, everywhere and they're just like you and me."
As someone with an MD and a master's degree in information science, Rebecca's path to health care technology might have seemed straightforward. However, it wasn't until after a 17-year stint as a university professor that she realized where her true passions lay.
"I started feeling like I was not really able to make the impact that I wanted to make," Dr. Jacobson said. "That's when I decided that in order to make an impact, I had to move to a health care organization."
Dr. Jacobson was recruited to join UPMC Enterprises as a clinical natural language processing (NLP) pro. This expertise landed her the position of Vice President of Analytics. In this role, she gained some very valuable insight early on.
"Several people at UPMC Enterprises gave me the very wise advice to interview leaders at the UPMC Health Plan and Health Services Division," she said. "I spent the first six months of my role talking to people and learning about where health care technologies were needed, what problems hadn't been solved, and what areas were really ripe."
This eventually led her to form and launch Astrata, a company that uses NLP and automated technologies to help health care providers achieve value-based care. The company is still young, only having spun out in January 2021.
As a leader, Dr. Jacobson places a great deal of emphasis on the professional growth of her team.
"If you hire the right people, they want to be constantly growing and they need to be constantly growing," Dr. Jacobson said. "So, from my perspective, one of the most important things I do as a leader is to give them the space to develop."
To her, this leadership style is reflective of the trajectory of her company.
"At Astrata, we are trying to educate a whole market about what this transformation is going to look like, how difficult it's going to be for the health plans, and what they're going to need to do," she said. "A lot of what I do both internally and externally really is educate and mentor. I think we have the opportunity as a company to lead the change that is going to come.
When asked, separately, about the advice they have for younger women who aspire to be leaders in STEM (and beyond), Dr. Mohindru and Dr. Jacobson happened to have the same response: reject perfection.
In her experience, Dr. Mohindru has seen this emphasis on female perfection play out during meetings.
"What I've found is that women are hesitant to speak up and they hold themselves back because they feel that they don't know everything," Dr. Mohindru said. "Don't let perfection come in the way of your progress. No one's perfect, right?"
This sentiment also rings true for Dr. Jacobson, who urges women to ignore the urge to be 100%, especially when applying for new roles.
"A lot of research shows that women hold back on their own career trajectories," Dr. Jacobson said. "When women look at job descriptions, unless they meet 100% of the criteria, they won't apply for the job, whereas men, for the most part, will apply for it."
This desire for perfection can inadvertently cause women to hold themselves back, according to Dr. Jacobson:
"I always tell people to keep reaching for that next thing, even if it feels like you're not ready. Part of the reason you think you're not ready is we are often taught as women to be 100% sure of something before we go out and do it," she said. "It's OK to be brave and to try to force yourself to go after some things that might seem a little bit out of your reach."
Both Dr. Jacobson and Dr. Mohindru agree that as women in the workplace, it is important to stay positive.
"Don't listen to every voice," Dr. Jacobson said. "There will be people out there who are going to try to take you down, but it's not your job necessary to listen to them. It's your job to be you. Create the things in your life that you want to create."
It isn't always easy, but at the end of the day, Dr. Mohindru said that's what's enabled her to become the person she is today.
"If you only dwell on the negatives, it only makes things harder," Dr. Mohindru said. "I also look at my career and know that I came from India, I have an accent, I didn't grow up here, I did not get the football analogies, I did not play golf – and yet I am where I am."
Want to help UPMC Enterprises make life-changing medicine possible? Join our team or let us know about your innovative business idea.