The Anniversary Spotlight highlights an employee celebrating a significant work anniversary at UPMC every month.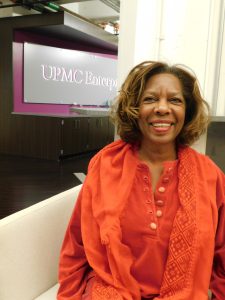 If you work at UPMC Enterprises, there's a good chance you've run into Kim Adams once or twice. In fact – it's sort of impossible not to since she's stationed at the front desk every day.
Kim has been at UPMC Enterprises since the very beginning. Before that, however, she has had a very wide range of experiences, which she jokes that she might not be able to completely remember.
"I am 64 years old, you know," Kim said, laughing while pulling out her resume for reference.
Kim received her Bachelor of Arts in Legal Studies from Point Park University. Between graduation and beginning her journey at UPMC, Kim has worked in a variety of jobs – both short-term and long-term.
On top of her experience as an Administrative Assistant at Duquesne Light and a Campaign Manager for United Way, Kim has once worked as a freelancer, an H&R Block Tax Consultant, a school bus monitor, church secretary, a Front Desk Receptionist at Schenley Gardens, an Executive Director for the Pittsburgh Institute of Biblical Studies, and a part-time worker at Kauffman's Department Store.
According to Kim, her job as a Front Desk Receptionist at Schenley Gardens might have been the most impactful.
"Schenley Gardens is where I found my first love: customer service," she said.
When she first had the opportunity to work at UPMC, Kim admits that she was hesitant.
"At the time, I wasn't really sure what I was looking for," Kim said. "I wasn't sure if I wanted to work in a hospital or medical setting."
Despite being unsure about what her new career might entail, Kim decided to move forward at UPMC and has never once looked back. She started out in the Pathology Department at UPMC Presbyterian Hospital and eventually made her way to UPMC Enterprises.
For Kim, who now works as an Executive Assistant I, becoming the front desk receptionist was originally supposed to be a temporary role. However, she said she liked it so much that she never wanted to give it up.
"I had so much fun out there," she said. "In fact, I passed up every other Executive Assistant job that came up because I just loved the nice variety of working for everyone instead of just one person. To this day, I still really do like it and genuinely enjoy coming to work."
Outside of work, Kim's top priority is her family. She has no kids of her own, but she makes sure to stay connected to her siblings and 47 (yes – 47) nieces and nephews.
"My family and I are very close," Kim said. "We go away together, we still do every holiday together, we still do cookouts and picnics, and celebrate each one of our birthdays altogether. That's important."
In the past several years, Kim has unfortunately dealt with loss and illness in her family due to various health issues. Despite not originally planning to end up at UPMC, she said her career here for the past 17 years has prepared her with medical knowledge, connections, and more – all before she ever knew she'd need it.
"I always say this, but you don't know what you don't know until you don't know," Kim said. "I'm serious. The way that everything has worked out for me is just a true reflection of how God is always two steps ahead of you, creating a path for you. It's all part of a bigger plan."
Today, Kim is proud to work at UPMC Enterprises and to help anyone in need, whether they need extra copy paper, help finding a specific office, or simply someone to talk to.
"I'm really grateful to be at UPMC Enterprises," she said. "I don't think there's any other place I'd rather be."