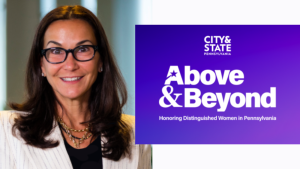 Jeanne Cunicelli, President of UPMC Enterprises and Executive Vice President of UPMC, has been selected as an honoree and recipient of the "Above & Beyond" award at City & State's first-annual "Above & Beyond" gala. The gala will take place March 22 in Philadelphia.
As the first event of its kind, the "Above & Beyond" gala is intended to honor the 40 most influential women in Pennsylvania who have "demonstrated exemplary leadership in their field, combined with having made significant contributions to society," according to the ceremony's description.
The 40 selected honorees are based on hundreds of nominations from City & State readers and advisors, as well as a final selection by the magazine's editorial team. As an inaugural winner of the "Above & Beyond" award, Cunicelli said she could not be more honored.
"I'm honored to be nominated and included amongst this amazing group of women," Cunicelli said. "Throughout my career and personal life, I have been supported by countless other female leaders and am looking forward to working alongside the next generation of female leaders across our state."
As an honoree, Cunicelli received a feature in the City & State magazine, which can be read digitally here.